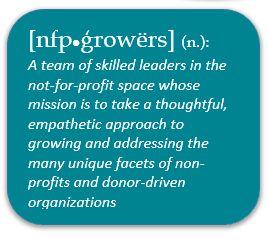 nfpgrowers:
In a word? Collaboration.
We're the grant to your letter; the 501 to your (c)3; the "non" to your "profit". We don't dictate…we collaborate. We take an arm-in-arm approach to growing your not-for-profit organization in a thoughtful manner aligned with your organization's values. Don't have values or a vision articulated? Rely on us to help. Seeking consistent processes to enhance donor and volunteer customer service? We have your back. Trying to decipher how to articulate your internal training programs into college credit? This is our forte! The bottom line? We can't wait to collaborate with you to make the good you're already doing in the world even more impactful. Take our hand…it's time to grow.
OUR VISION:
Our purpose is to link arms with your organization and generate solutions specific to your non-profit's unique purpose. Whether you're a well-established non-profit organization looking to refine your practices, or a group of passionate people seeking to start an organization from the ground up, we can help.
And we're ready to support you.
OUR STRENGTHS:
Team Alignment & Goal Setting
Processes & Systems Development
Donor / Volunteer Customer Service
Metrics & Reporting
Articulating Internal Training (for college credit)